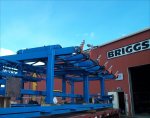 Briggs Machine and Fabrication, LLC, is located in Spokane Valley, Washington, and has been providing Job Shop machine and fabrication services for industries across the North American continent and Hawaii for nearly 30 years.
The growth and success of our operation have stemmed from two basic ingredients: service and quality. A highly trained team is ready to meet the customer's needs quickly and efficiently, from simple requests (such as boring small sprockets) to designing and manufacturing conveyor systems.
We have put together a series of photographs of products that have been manufactured in our facility. Please take a few minutes to view our gallery.
As a job shop, we machine made-to-order parts, components, and/or assemblies for a wide range of industries: lumber and logging, cement and concrete, sand and gravel, steel mills and foundries, construction equipment, rock crushing and mining, agriculture, and bio mass.
We maintain inventory in both steel plate A36 and 1045, and shafting in 1018, 1045, and 4140.
Contact Us: (509) 535-0125 (phone) (509) 535-0880 (fax) E-mail Us